Introduction
Over the last few years, the VCX standard has become one of the leading sources for evaluating the performance and quality of mobile phone camera systems. What makes VCX unique is the development of an objective "score" given to each camera that undergoes VCX testing as outlined in the standard. All camera scores are readily available to consumers, who can use them to make a more informed purchase depending on their preferences. Need a camera that excels in sunny conditions? Or maybe a camera better equipped for selfies? The consumer can use the VCX score to find the perfect camera for them.
On the engineering side, the VCX standard has helped push innovation for mobile phone companies as they look to consistently improve their score and rise in the camera rankings with each new release. As the VCX standard continues to become a more integral part of consumer buying decisions, other consumer-based camera sectors have begun to take notice. In early 2021, the VCX-Forum was approached by a handful of companies that focus on the development of webcam systems.
Over a decade ago, Skype took the lead in developing a testing standard that would essentially provide a baseline for webcam system manufacturers to follow when testing their systems. Until recently, this standard was still in use, but since Skype's acquisition by Microsoft, the standard has not received any additional revisions or updates. As a result, the initial few companies asked VCX if they could modify the mobile phone test for webcams and then ultimately create a new industry standard. Due to the pandemic, the development of this standard has been accelerated and will remain crucial in the future as the reliance on web conferences is here to stay.

Introducing Dell TDC
One of those initial companies to approach VCX was Dell TDC (Taiwan). They became one of the first companies to fully equip their camera test lab with the equipment specifically to evaluate the performance of their Webcams based on the development of the VCX standard. Like the mobile phone companies before them, the PC group also wanted an updated industry-wide standard that consumers could use to make a more educated purchase.
The VCX-Forum consists of camera and imaging experts from around the world. With the integration of the webcam experts, including Dell TDC, VCX can begin tailoring the parameters to meet the requirements of webcams. One of the most vital aspects of the VCX test is ensuring that every test is performed in a test lab that meets the exact specifications outlined in the whitepaper. Results gained without using a proper test lab cannot contribute to the score published by VCX.
Building a VCX test lab at Dell
After helping establish the development of the standard, Dell set out to build a VCX test lab of their own with the assistance of Image Engineering. While Dell TDC was the initial leader behind the design of a company VCX lab, they quickly realized that they could also bring other Dell offices to utilize their expertise in certain areas of the testing process. As a result, multiple Dell branches were brought into the fold, and many are now in the process of setting up VCX test labs of their own. Having multiple VCX labs worldwide will allow Dell to compare results and collaborate more strategically on webcam development.
At IE, we have helped companies construct image quality test labs worldwide, including VCX labs for mobile phone testing. However, setting up a test lab for Dell TDC and their partners would be a few of our first for webcam testing, according to VCX. Engineers from both sides met regularly to discuss how best to equip Dell using the VCX requirements. The first objective was to find suitable illumination devices that can create the lighting requirements according to VCX.
Lab illumination requirements include the ability to create and test in low, mid, bright, mixed (e.g., bright foreground and dark background), and HDR light. Once proper lighting is achieved, the KPIs can be tested under each spectrum. KPIs include:
Exposure, Gamma, Dynamic range
Frame rate and jitter
Noise, including fixed pattern noise and visual noise
Spatial Frequency Response (SFR), including resolution, texture loss, and sharpening
Color accuracy and auto white balance
Image uniformity
With that in mind, IE offered Dell the iQ-Flatlights for reflective chart illumination and the LE7 uniform lightbox for transparent chart illumination. Both devices are powered by iQ-LED technology, an all-in-one light source that can generate custom spectra for testing. Thus, you can recreate almost any light source, including all of those specified in the VCX standard, from the comfort of a test lab.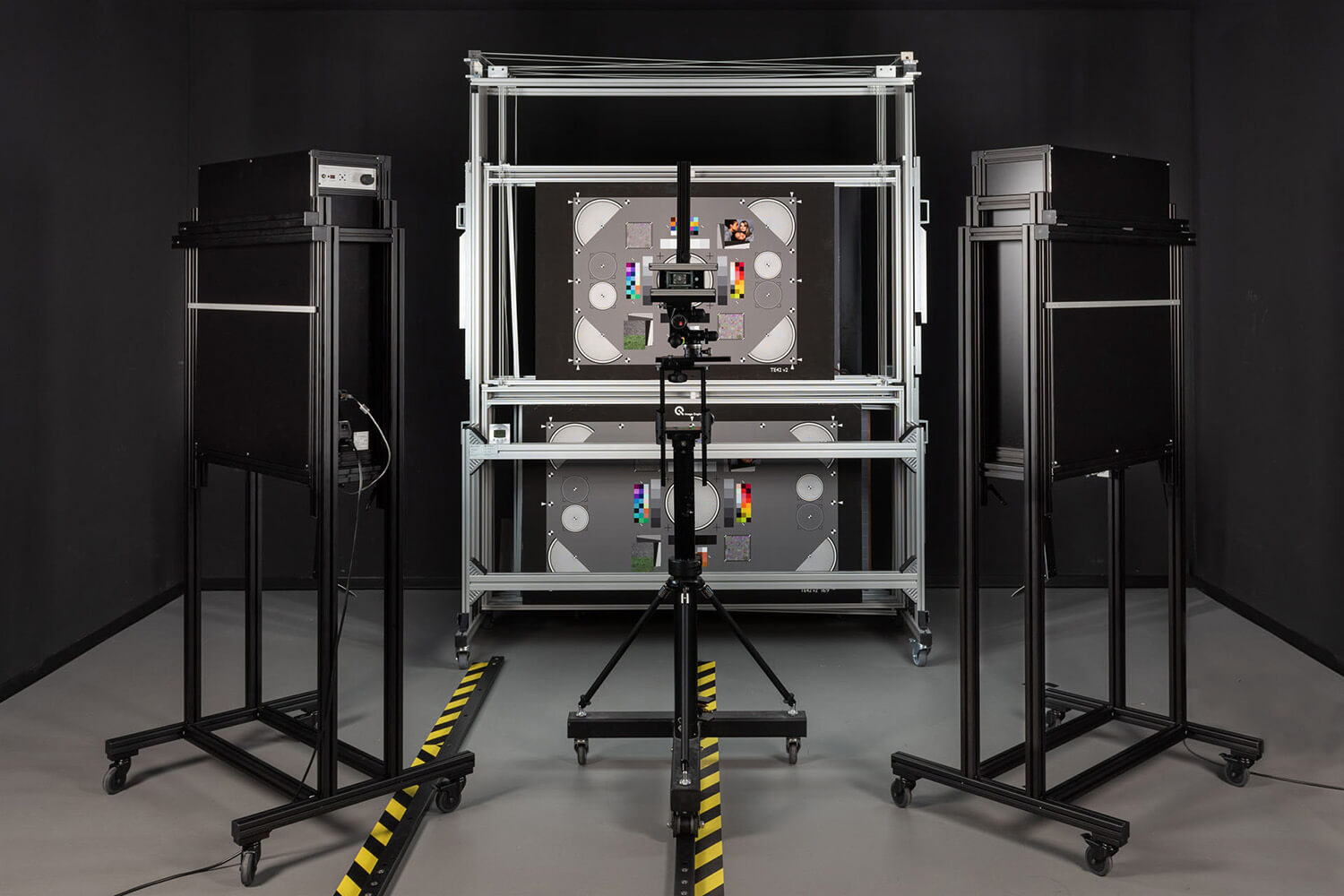 Once the correct light sources were chosen, IE recommended a collection of test charts for testing the various KPIs outlined in the standard. A few of the charts Dell ordered include TE264 (OECF) for dynamic range measurements, TE276 (dead leaves) for resolution and texture loss, and TE188 (ColorChecker) for color accuracy and white balance. We have also provided Dell with the TE273 skin tone test chart, which is a vital chart for webcam system testing.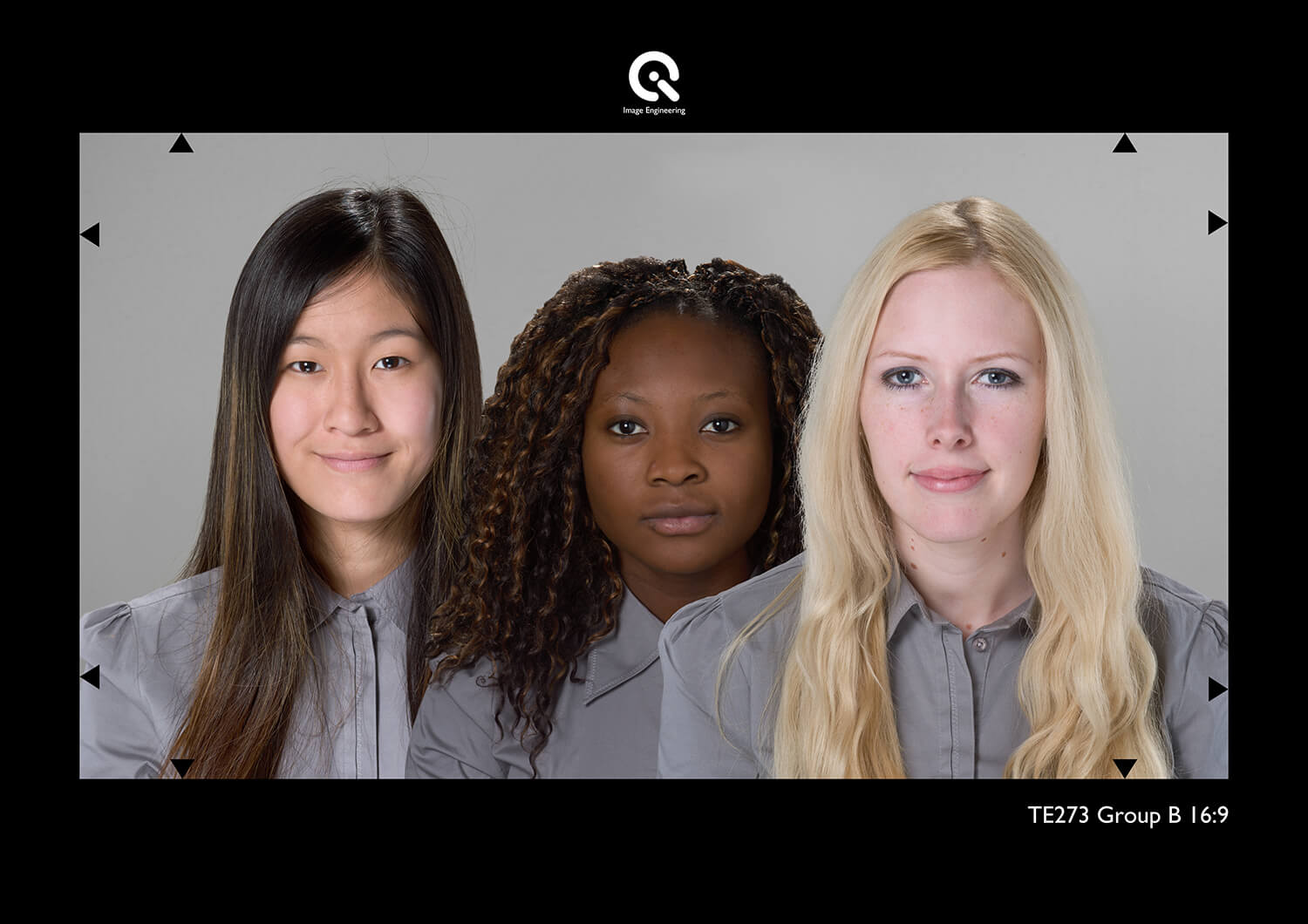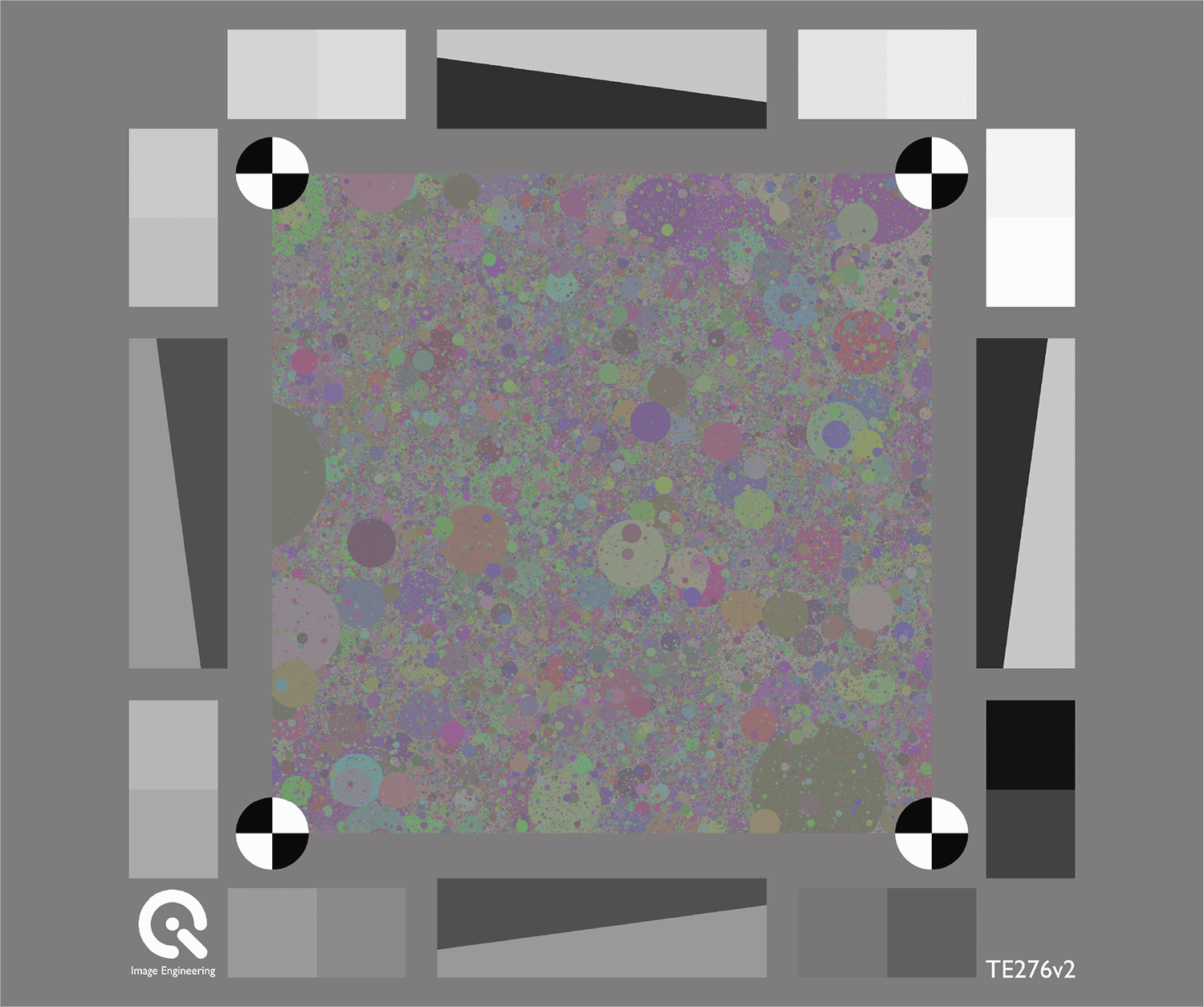 To round out the test lab, we discussed the benefits of using a motorized test bench and chart mount with Dell. Dell will install a motorized test bench with a robot arm for automated camera alignment to the various charts and devices. Using automatic alignment significantly reduces the chance of human error and provides more accurate test results. IE offers custom-made iQ-Benches that will support the robot arm. In addition, we are providing Dell with the iQ-Chartmount-VM that can hold multiple charts and move them into the correct testing position automatically.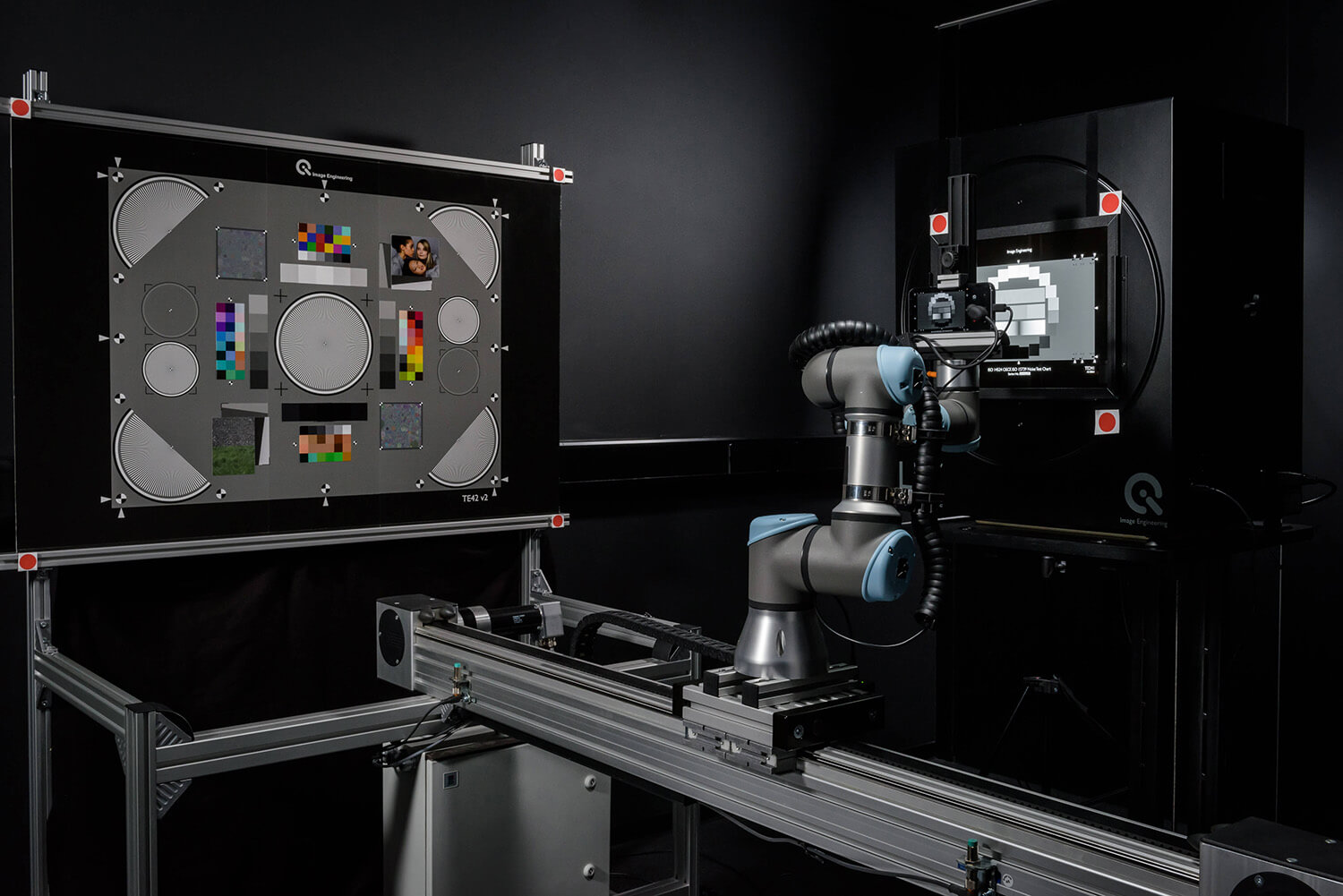 Finally, Dell has opted to utilize the iQ-Analyzer-X evaluation software to evaluate the test results. This software is the most flexible image quality analysis software on the market, and Dell will already have all their test chart information set within the software. All they need to do is upload the results and let iQ-Analyzer-X take it from there.
Conclusion
Currently, the VCX standard for webcam testing is still under development. Work on it has accelerated over the last few years as it has become evident that web conferences are here to stay. Dell TDC and Image Engineering are both members of the VCX group working on the standard in addition to many other companies. VCX is an open group, and anyone who would like to contribute to the development of the standard can join. Check out the VCX website for more details on joining.
As web conferences and chatting become more integrated into our everyday lives, it only presses the need for webcam companies to ensure they are providing the highest quality cameras that they can. Without high performance and quality, consumers will look elsewhere for their needs.
Dell TDC is an excellent example of a company working and using the VCX standard to improve its camera products and push the industry forward. With the help of Image Engineering, they now have an advanced image quality test lab dedicated to evaluating the quality of their webcams and have quickly established themselves as a leader in webcam system testing.
Acknowledgments
We would like to thank our partners at Dell TDC and the VCX-Forum for their assistance in writing this post.
Contact links
Dell TDC - for further information about webcams and contact info.
VCX-Forum - for the latest information regarding the standard and contact info.
Image Engineering - contact our sales team for more information on our image quality test solutions