Introduction
iQ-LED technology* features an all-in-one light source that is capable of recreating numerous other light sources in a test lab environment. In other words, the technology of the iQ-LED can generate custom spectra by the optical mixing of emitted radiation from spectrally different LEDs. Any light source whether it be natural sunshine, automotive brake lights, or a standard light from a lab can be simulated with the iQ-LED device.
The standard module consists of 41 high power SMD LEDs separated into 20 channels on a 10 x 10 cm board. This module can be used as a single light source, or it can be part of an array consisting of multiple iQ-LED units acting as one larger light. By combining the hardware with control software and a NIST traceable absolute calibrated spectrometer, the iQ-LED can recreate your lighting requirements.
The iQ-LED V2 module is built into many of our illumination devices (list below).*
The increasing reliance on cameras throughout society today has made it even more imperative to accurately test the performance of a camera in different lighting environments. iQ-LED technology greatly increases the possibilities and the accuracy of camera testing.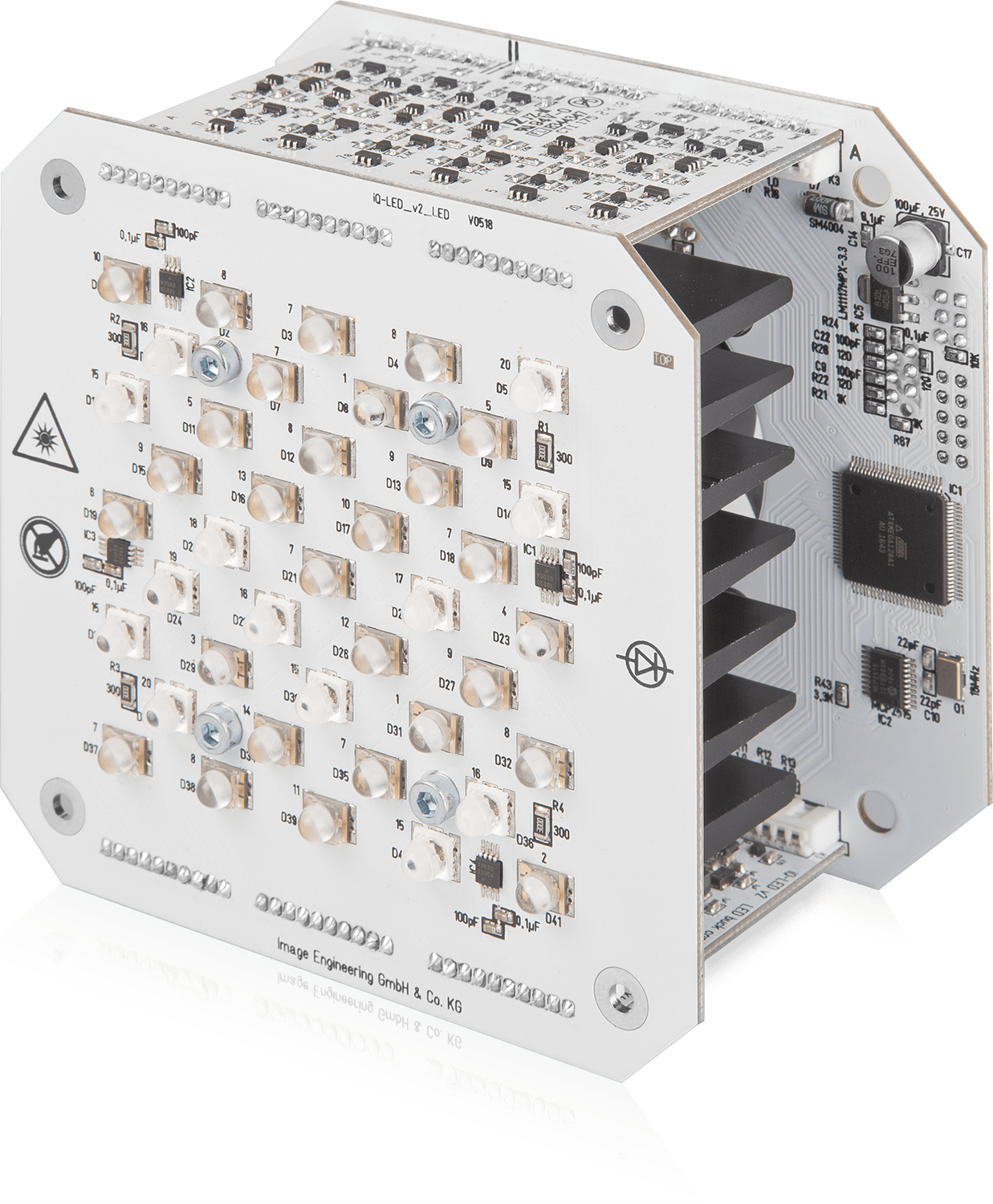 Basic Usage
The iQ-LED setup process has been fully automated for an optimal workflow within the control software. A C++ API is available for integration into your design; the API workflow is also fully automated.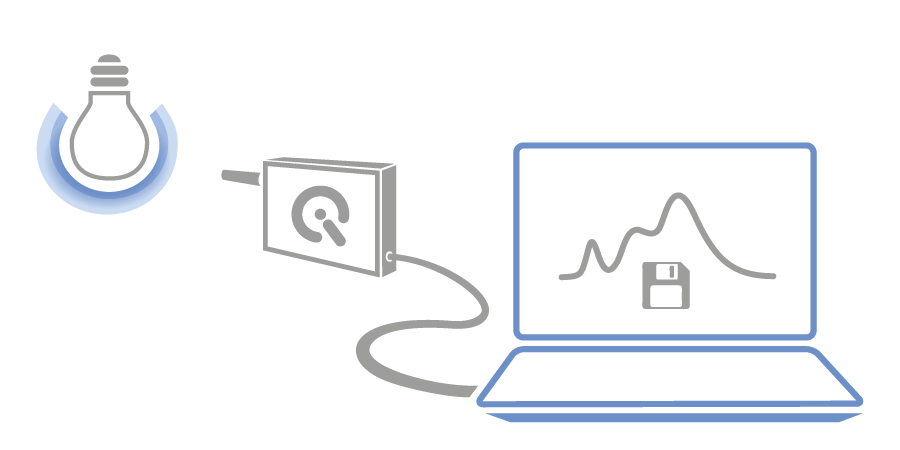 Measure target spectra (optional)
Use the spectrometer for measuring unique or individual target spectra that are not part of the standard illuminant presets available with the software.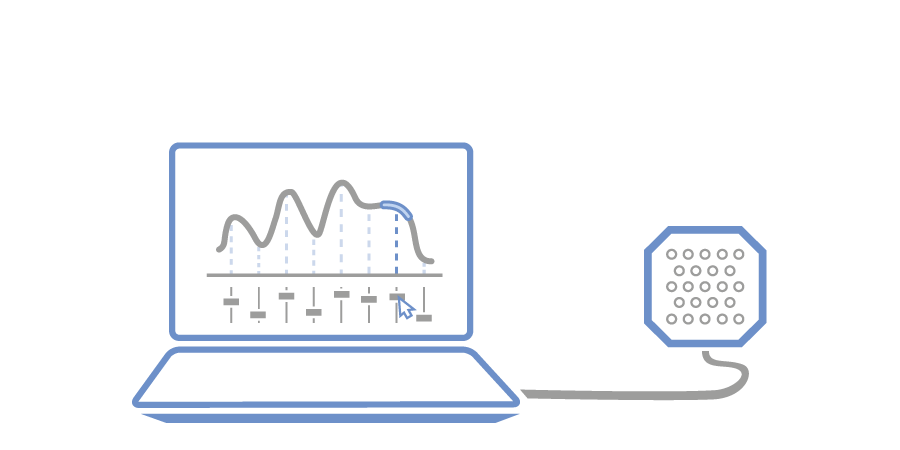 Create an iQ-LED Setup
Select a target spectrum in the iQ-LED software. The light source will be automatically generated based on the target spectrum. Take direct control of the iQ-LED module or upload illuminants or sequences forindependent operation.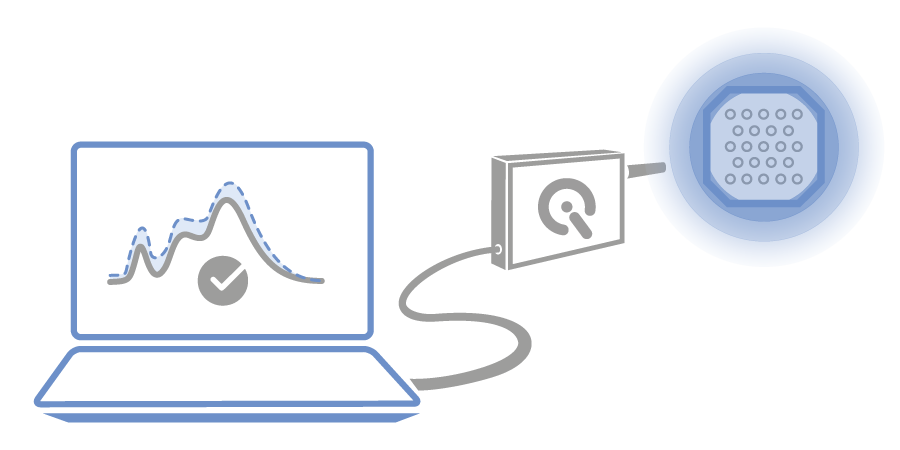 Verify Light Source(s)
Use the spectrometer to accurately match selected target and iQ-LED device output spectra. Once confirmed, the device can then operate independently without the need of a computer.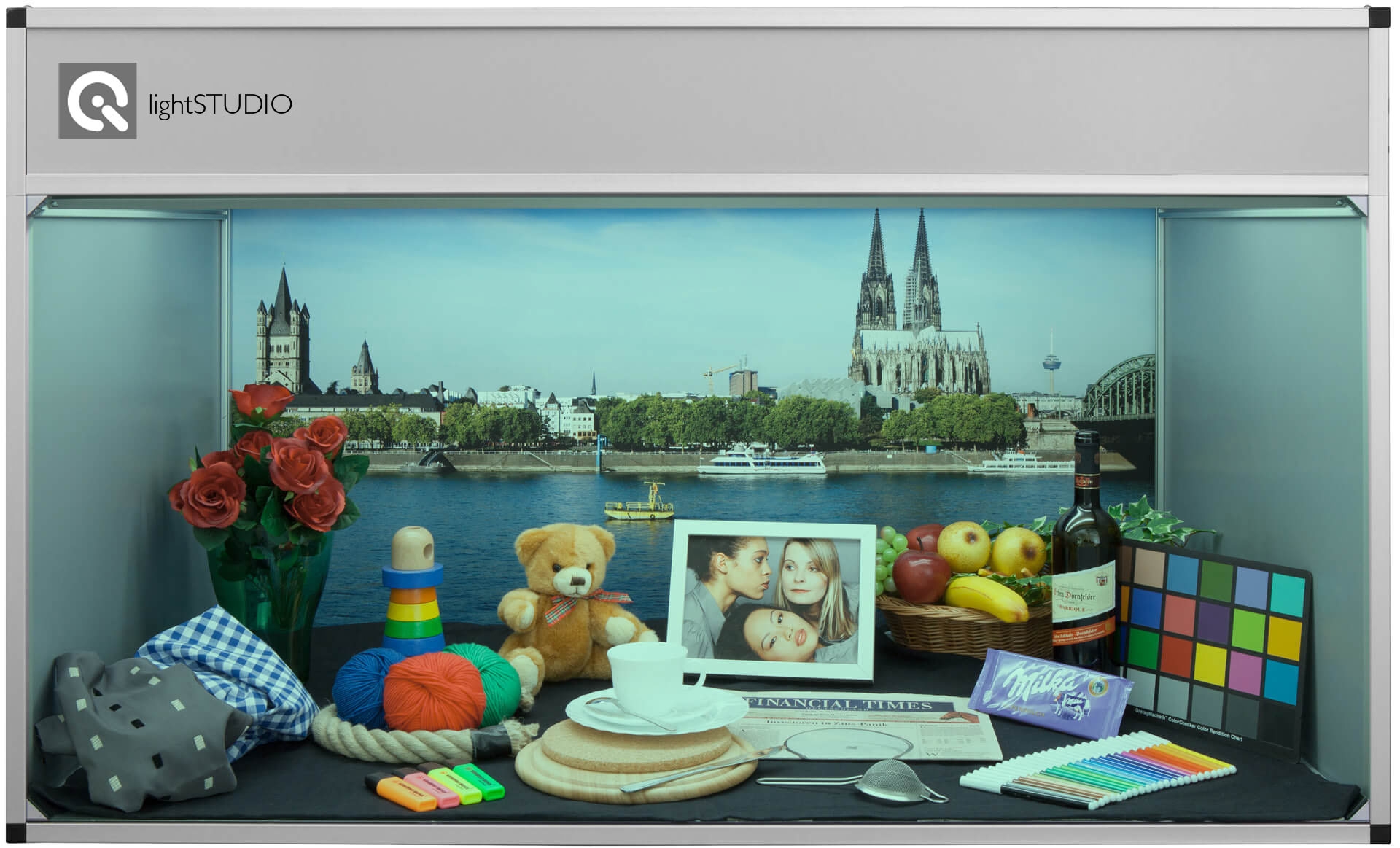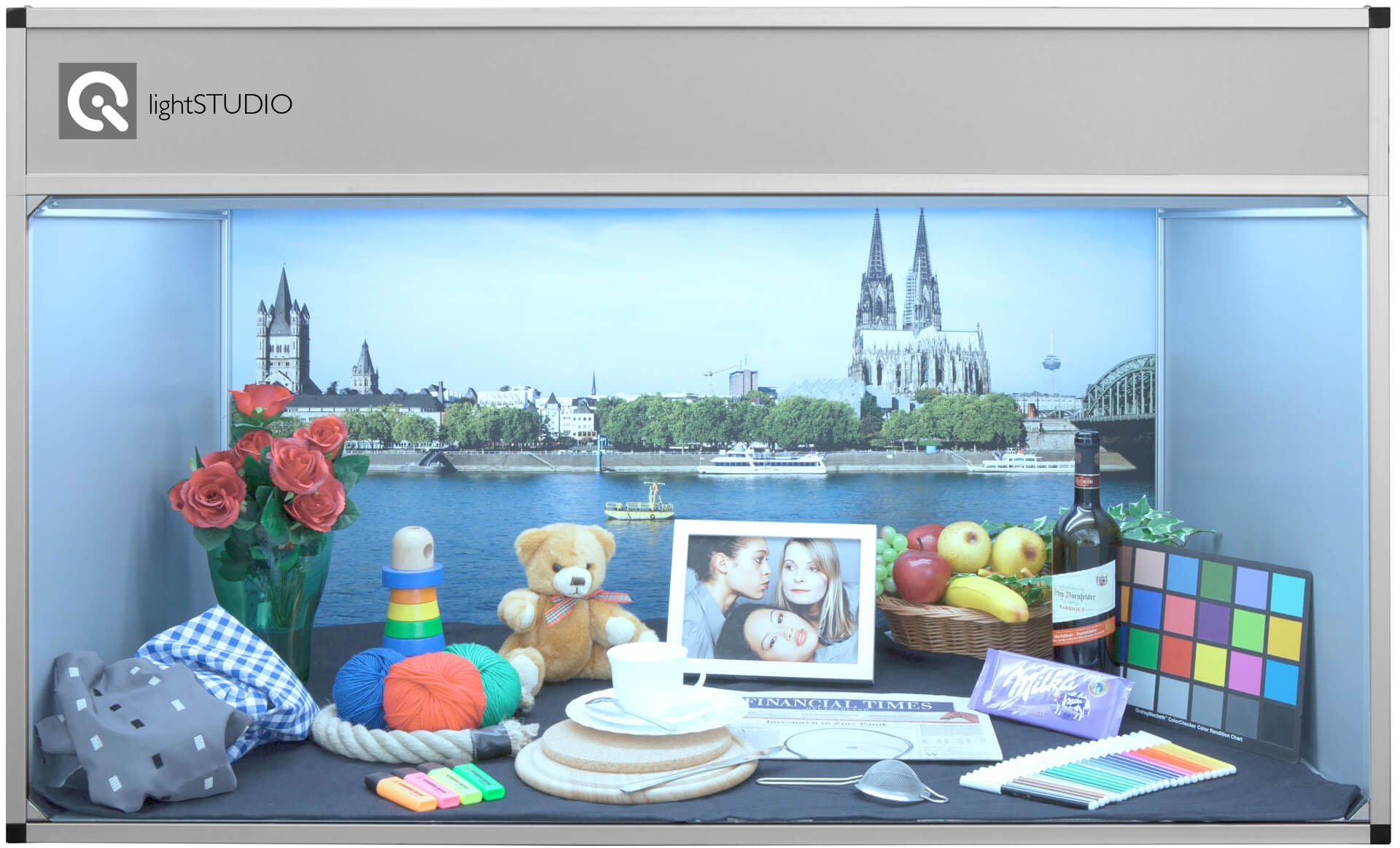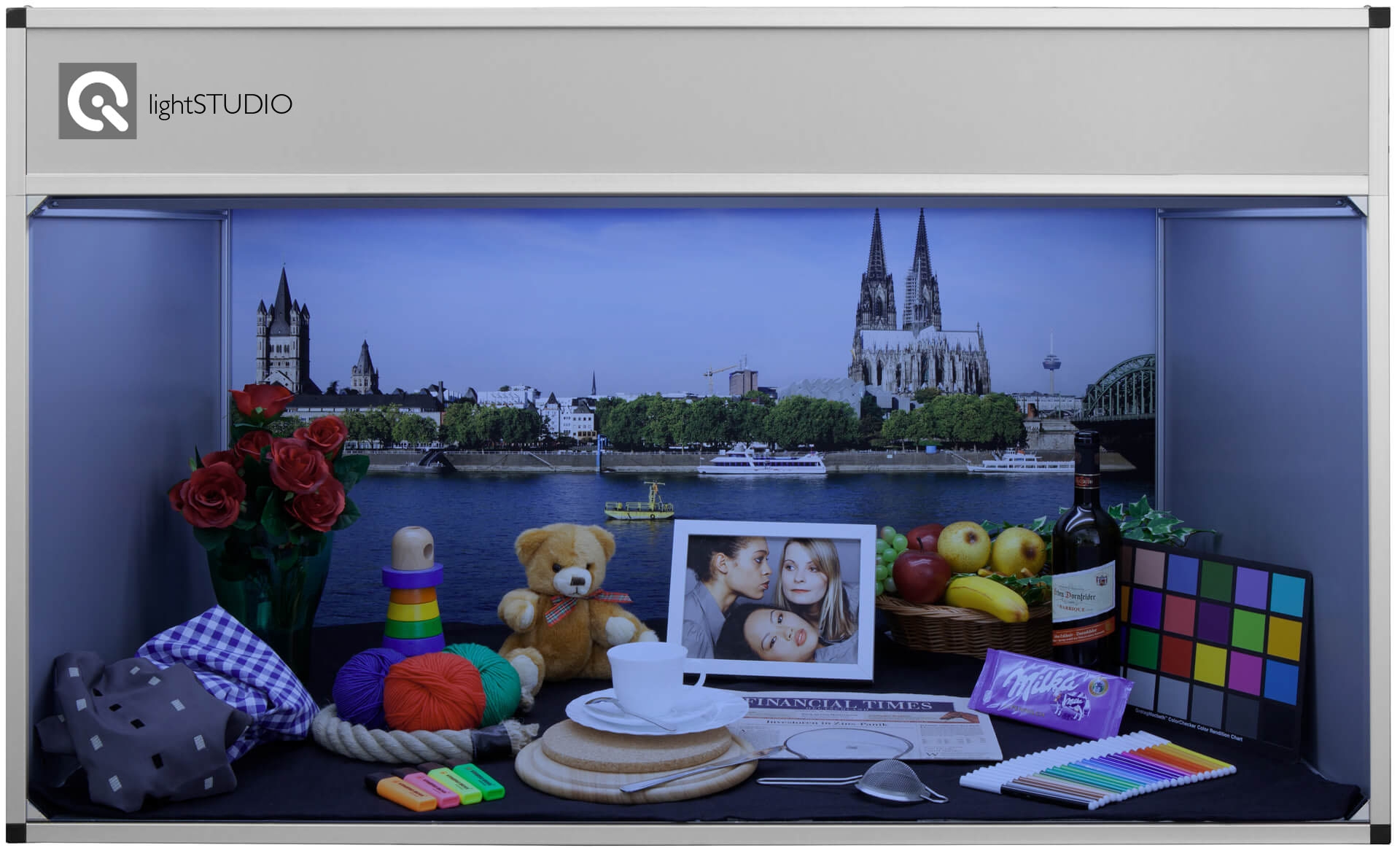 iq-led_daylight_image.jpg



A real-world example of the LEDs generating multiple spectrums within the lightSTUDIO, our real scene testing device.
Main Features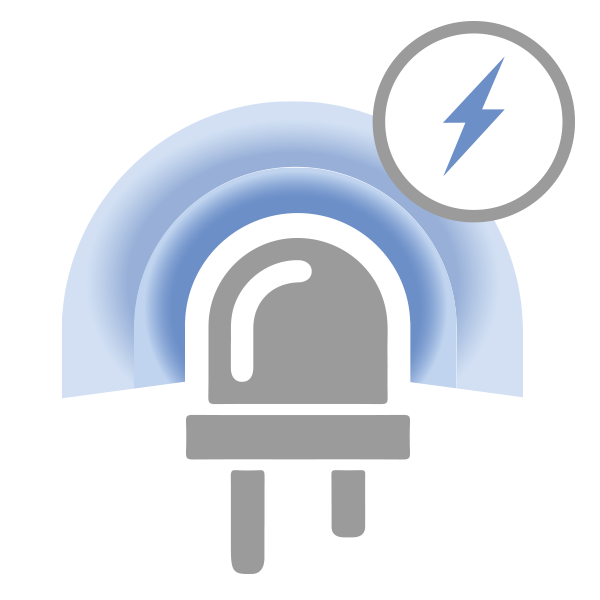 High Intensity
The high-powered LEDs are controlled via 4000 steps per channel and 32 kHz PWM (128 kHz via 1000 steps is possible if required by the camera settings). The high intensity allows for broader application areas and more accurate spectral mixing.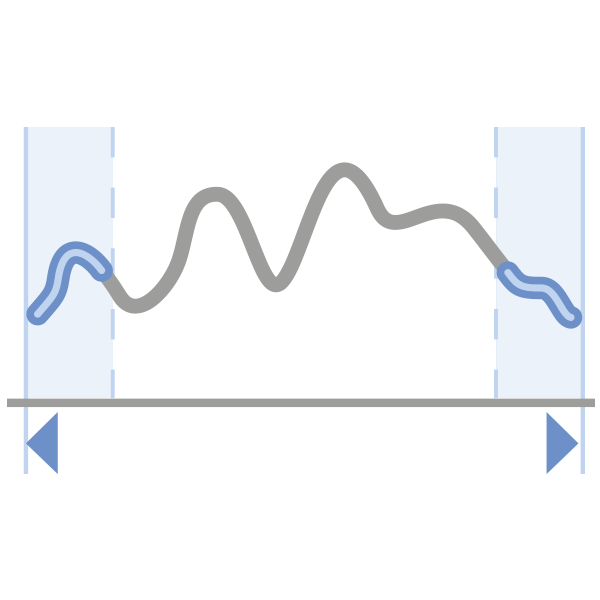 A Broad Wavelength Range
Multiple channels in the iQ-LED improve the curve fitting for all wavelength ranges. A broad wavelength range of approx. 380 – 820 nm, increases the accuracy of spectral reproduction.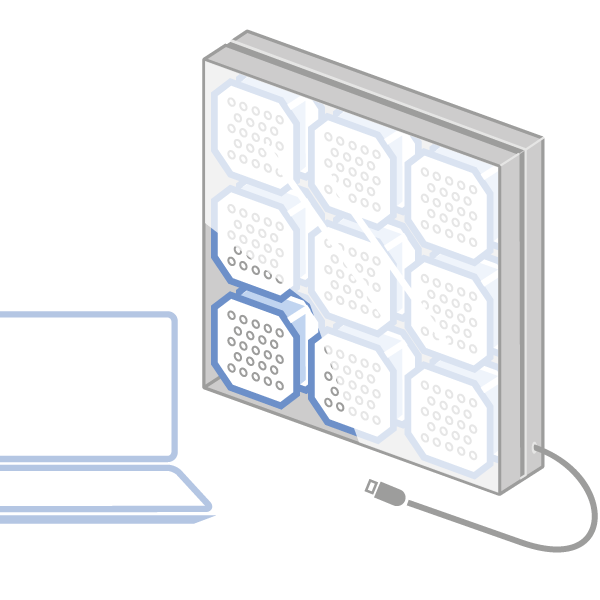 Independent and Modular
Combine multiple modular units to create one larger light source. After an initial check with the spectrometer to ensure the target spectra is being accurately generated, the iQ-LED device will no longer require a PC and can be run independently until a new spectrum is needed.
Production Line Integration
The iQ-LED uses advanced hardware features including temperature sensors, self-testing at startup, and an operation hour counter for smoother integration into production lines.
Control Software
The iQ-LED software provides extensive control over all of the iQ-LED devices and their corresponding illumination devices. A C++ API is available for those who wish to use their own software. For detailed information on the iQ-LED software, please see the software page.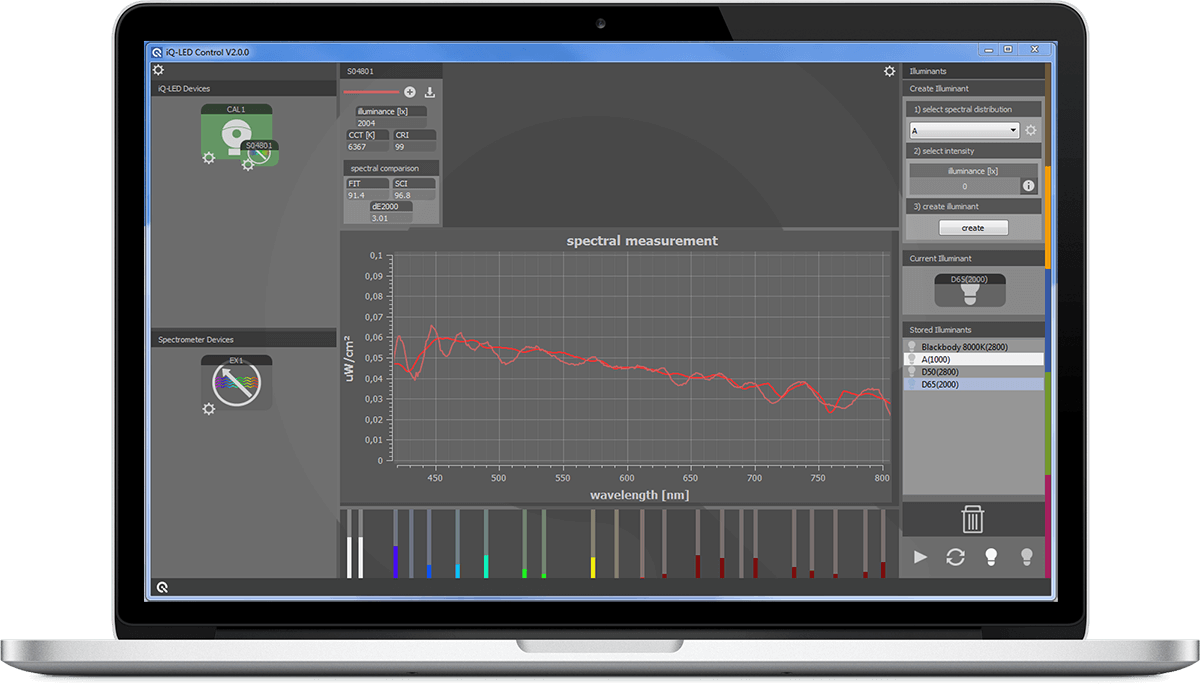 Suitable for any iQ-LED device
User-friendly interface
Can handle multiple devices
Saving, loading and automatic generation of illuminants
Controlling every single spectral channel
Composing and running illumination sequences
Spectrometer aided control loop for high-precision illuminants
Device calibration ensuring constant quality at the highest level
C++ API available
Technical data
Principle
High power SMD LED-based spectral light source
Light sources
41 SMD high power LEDs separated into 20 color channels
Spectral range: 380 – 820 nm
Intensity
Controlled via 4000 steps per channel and 32 kHz PWM
Switchable to 1000 steps and 128 kHz
Control system
Software-based control system via USB, C++ API available (with PC)
Store up to 44 illuminants, one sequence, and default light source, control via microswitch controller (without PC)
Included standard illuminants
D50, D55, D65, D75, A, B, C, E
Planckian spectral curve by selected temperature (1900 – 18000 K)
Illumination stability
+/- 1% when stabilized
(2% after switching D illuminants during the first five seconds)
Response time
< 50 ms
Power supply
12 V
Dimensions
100 mm x 105 mm x 76 mm
Weight
0.5 kg (only iQ-LED device)
Approximate Lifetime
10000 h
*iQ-LED technology is used in many of our illumination devices but is not sold as a standalone product. If you have specific requests or require customization, please contact to discuss your requirements.