Introduction
We introduced iQ-LED technology back in 2013 when we were attempting to develop an alternative light source to upgrade the standard fluorescent light sources normally found in image quality test labs. Unlike the standard fluorescent, iQ-LED light sources allow us to generate custom spectra and thus create more accurate illumination environments often encountered in the real world.
An iQ-LED light source itself is based around individual LED modules that can be combined with e.g., an integrating sphere to create an all-in-one light source. This light source can then generate custom spectra by the optical mixing of emitted radiation from spectrally different LEDs. In other words, almost any light source, from natural sunshine to low light environments, can be accurately simulated with an iQ-LED light source in a test lab setting.
Currently, we offer a diverse range of iQ-LED illumination devices for numerous testing possibilities. These devices, however, are just the beginning of what this technology is capable of. Almost any illumination solution you can think of can be brought to life using iQ-LED technology.
The video below demonstrates how by using iQ-LED technology, you can create a full real-world environment all within the confines of a test lab. With camera and sensor technology, particularly in the automotive and security industries, advancing fast, it has become imperative to test how these cameras perform in any situation they might encounter to ensure the highest level of safety.
How to get started?
If you are interested in the possibilities that iQ-LED technology can offer your test lab, we recommend contacting our support team for free consultation. We can help guide you to creating the best iQ-LED illumination solution for your requirements. Upgrade your test lab, improve your image quality testing, and create higher performing camera systems with the help of iQ-LED illumination.
iQ-LED
Hardware Design
Each individual iQ-LED module consists of 41 high power SMD LEDs separated into 20 channels on a 10 x 10 cm board. Each module has a spectral range of 380 – 820 nm with the intensity controlled via 4000 steps per channel and 32 kHz PWM (also switchable to 1000 steps with 128 kHz). The approximate lifetime of each module is 10,000 hours. We provide light sources that use only a single module while others combine multiple modules to create a larger light source.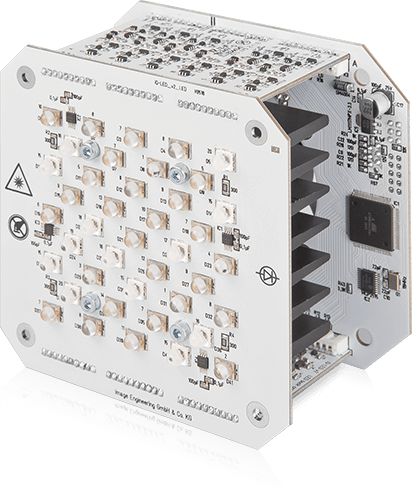 Control Software
The iQ-LED control software provides extensive control over all of the iQ-LED modules and their corresponding illumination devices. You can control multiple devices at once, save and load various illuminants, and create sequences including mixed light situations (only available in certain products). We are continuously updating and improving the iQ-LED control software to ensure the highest level of image quality testing is available.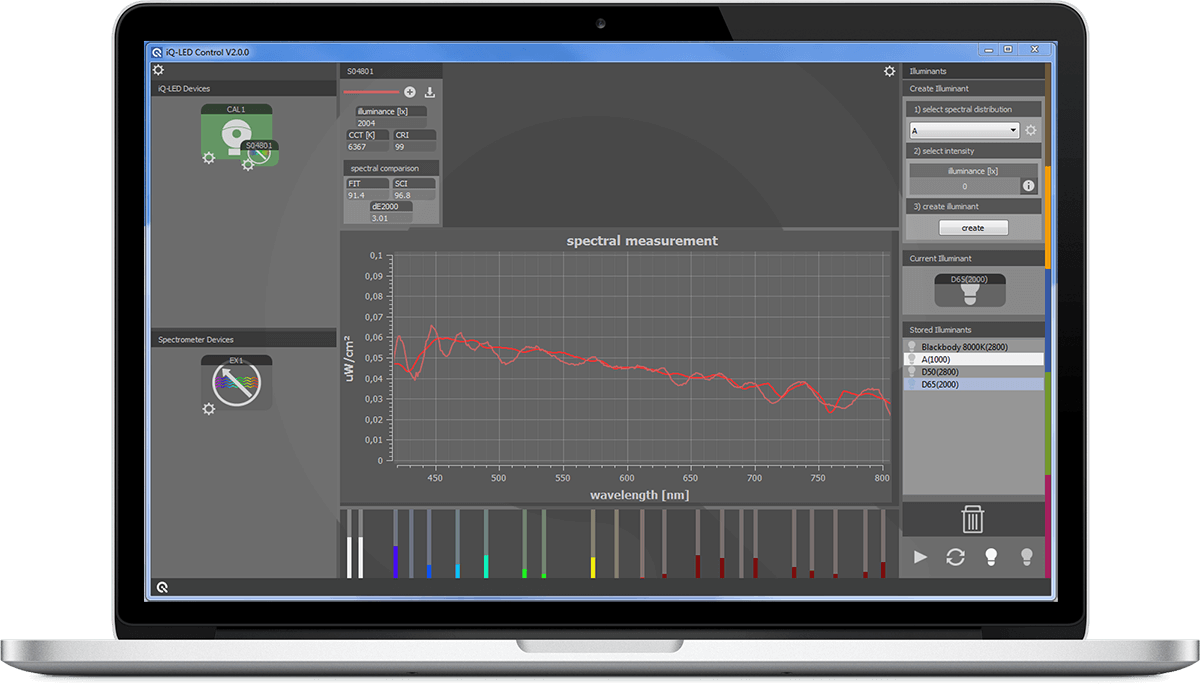 Accuracy
Each iQ-LED light source comes with a NIST traceable absolute calibrated spectrometer. The spectrometer is integrated into each iQ-LED device (CAL2 comes with an external spectrometer) to compare the accuracy of the measured spectra with a target reference such as the color rendering index (CRI) or correlated color temperature (CCT).