The Image Engineering test lab evaluates dozens of cameras and lenses every year. Last month, we had the opportunity for a more unusual test, of commercial-quality digital cinema cameras. Since 2007, digital cinema camera pioneer Red has been manufacturing cameras capable of capturing RAW files for TV and cinema, and two of their cameras were recently in the test lab for image quality analysis.
Many films, commercials, music videos, and photographs have been 'shot on RED', including well-known movies such as The Hobbit and Guardians of the Galaxy vol. 2, and also straight dramas such as the recent film Allied and the Danish political TV drama Borgen. Some RED camera sensors can record movies up to 8K and in RAW format, so it is not surprising that the cameras can be used to make films of sufficient quality for cinema and for TV broadcast. Just imagine! 8K footage is four times the resolution of 4K images, and 17 times that of HD films. An overview about video formats can be found here.
The cameras that were tested in the lab didn't look at lot like the stereotypical movie camera, at least not at first. Red cameras are designed in modules around a central element called the 'brain', which contains the sensor and image processing center. Power modules, a monitor or two, and a lens, and other accessories like optical low-pass filters, can be added. We were lucky that a Red technician came along with the cameras, bringing the know-how to build and use the cameras being assessed.
Image Engineering tested two models: a top-of-the-line model with an 8K sensor (named 'Monstro', within the 'Weapon' brain), and a more affordable Epic brain with a 35.4 MP Helium sensor. We tested the cameras using the TE42v2, a specialized test chart that permits the measurement of resolution, visual noise, dynamic range, texture loss, and many elements of image quality.
So, how do we test image quality in 'moving pictures'? Just as we test video from consumer cameras. A film clip is recorded of the test target, the TE42v2, and some of the frames in this clip are extracted for analysis. We are accustomed to grabbing frames from consumer-quality video, which is recorded in JPEG format. With the Red cameras, an extra step was required to convert the RAW frames into TIFFs, so we could analyze them with our iQ Analyzer software.
The RED cameras were tested under different light conditions and also high and low ISO speeds. In particular, we compared resolution, texture loss, and visual noise under different conditions.
Test results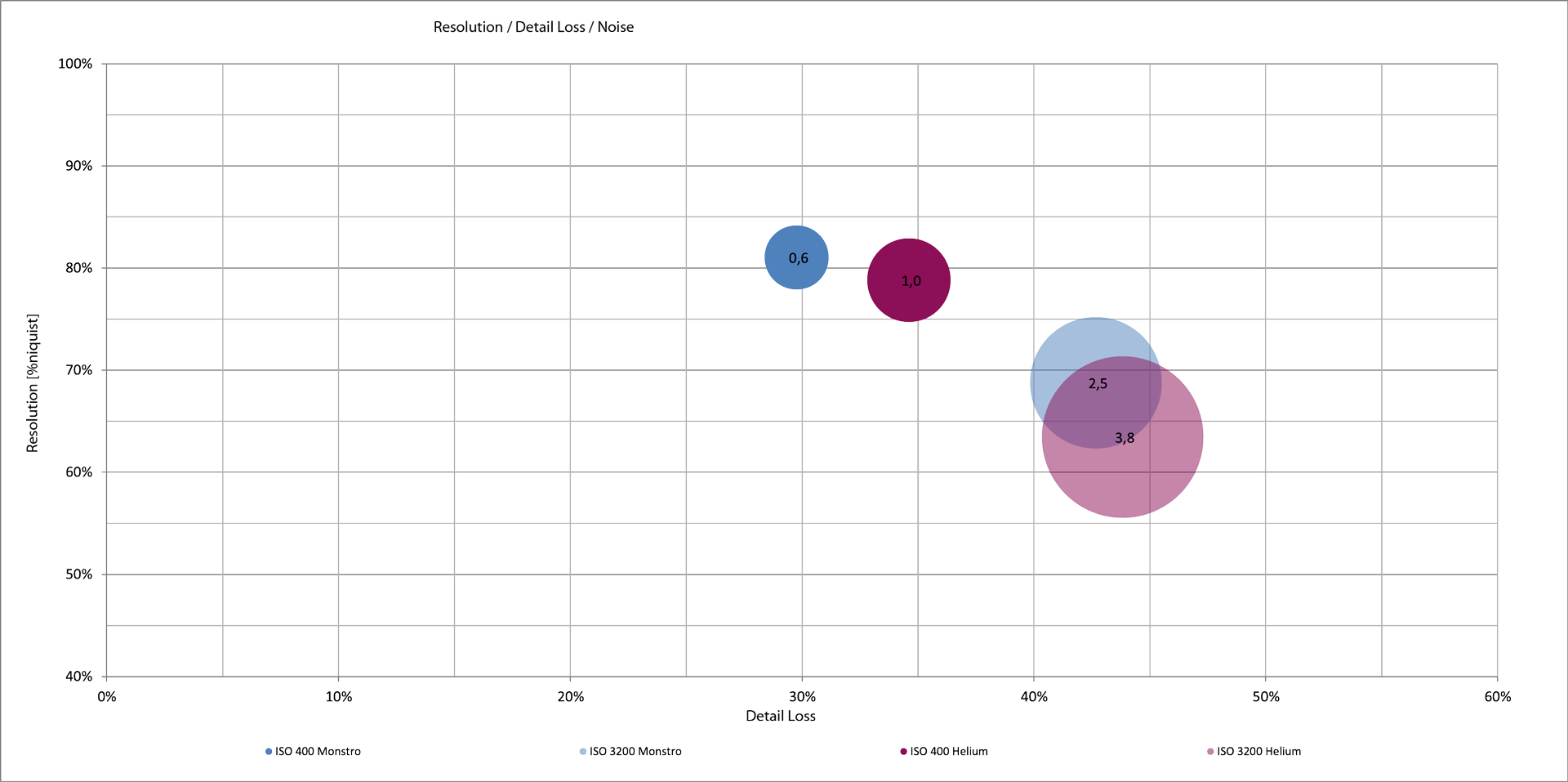 The results of the Image Engineering test lab assessments showed, for example, that the newer Monstro camera produces images with better resolution than the more affordable Helium model.
The test targets and measurement equipment developed by Image Engineering and used in our test lab, are suitable for testing a wide range of camera types. In the lab, we test traditional-looking cameras for serious photographers and hobbyists, rugged and action cams, cameras used in the automotive industry, security cameras and cameras in mobile phones – and cinema cameras, as well.